Wedding Catering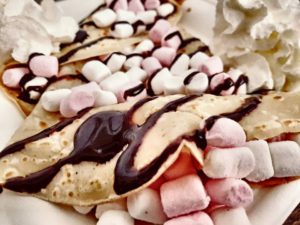 Wedding Desert
Crêpe de la Crêpe is a sociable, fun way to cater for your wedding desert. We cook our traditional French crêpes fresh in our vintage horsebox, which is a great focal and talking point for your guests. Our crêpes are served with a wide choice of delicious sweet fillings which will delight everyone.
Wedding Buffet
For your wedding buffet, you can include our hot savoury galettes, which  are generously packed with tasty fillings . Just ask us about our savoury options.
For an extra £30 you have the option of adding our large Belgian waffles to the menu! We can also cater for vegetarian, vegan & gluten free dietary requirements.
We arrive in plenty of time to set-up prior to serving time, and come prepared with disposable plates, cutlery & napkins, so nothing else is needed except your appetites!